CM4 Command Module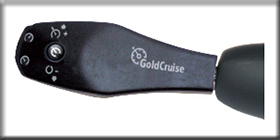 CM4 left or right handed stalk command module mounted on an adjustable ball joint.
Dimensions (WxHxD): 115x22x11mm (incl. base)

The CM4 is a very popular command module for many new vehicles, ergonomically designed for integration into modern car interiors to provide a quality finish with comfort and ease of use with two memory functions.
Functions:
On/Off
Set/Increase Speed (Twist Anti-Clockwise)
Resume/Decrease Speed (Twist Clockwise)
Coast
Memory functions
The CM4 will work with any of the Gold Cruise Actuators
Fully TUV approved and are guaranteed for 2 year after purchase date.
Price includes fitting at your location.
PRICE: £525*
Gold Cruise Control Brochure
| | |
| --- | --- |
| Command Module | CM4 |
| Command Module Style | stalk LH or RH |
| Actuator Type | mechanical/electronic |
| Electronic clutch safety switch | standard |
| Illuminated buttons | standard |
| LED light for cruise indication | standard |
| ON/Off Switch | standard |
| Automatically disengaged by brake pedal | standard |
| Automatically disengaged by clutch pedal | standard |
| Automatically disengaged by 15% speed change | standard |

* price can change due to vehicle make and model